Postat av Niklas - Crew i
Nyheter
den 17 april 2014 |
ingen kommentar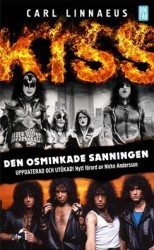 Så har skriver Carl om den nya utgåvan av hans bok "Den Osminkade Sanningen" i pocket variant.
Är löjligt nöjd med det kommande pocketomslaget om jag får säga det själv. Hittade en läcker osminkad bild från 1985 i Neil Zlozowers arkiv som mig veterligen aldrig använts tidigare. En outtake från omslagsplåtningen till den osminkade utgåvan av Creatures of the night. Nördinfo.
Lagt till intervjuer jag gjort det senaste året samt en massa ny, tidigare okänd fakta. Kommer nog sammanställa en sorts lista på vad som är nytt när boken släpps 15 maj.
Mest glad är jag över att Nicke Andersson ställde upp och skrev ett nytt förord. När Sweden Rock Magazines skribenter blev ombedda att rangordna de bästa svenska banden genom tiderna hade jag Hellacopters i topp. Oerhört kul och glädjande att han levererade ett så personligt förord om sin relation till Kiss. Hatten av.