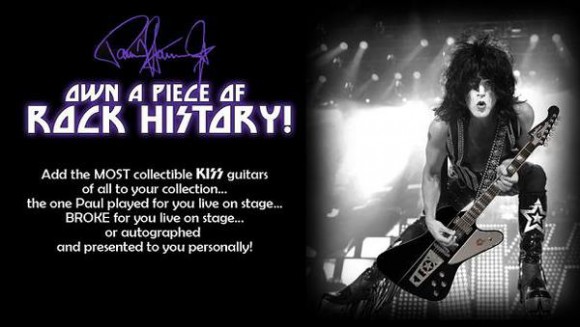 Redan nu kan man boka upp sig på Paul´s gitarrer han kommer att spela med under 2013 på konserterna. Gå in på följande sida: www.paulstanleyguitars.com
Paul Stanley's Washburn guitars are now on sale for the 2013 KISS MONSTER Tour. You can own one of the most collectible KISS guitars of all and meet with Paul before the show!
2013 MONSTER TOUR GUITAR OPTIONS:
– 'SMASHED' Starfire
– Stage-Played Starfire
– Autographed Starfire
– Stage-Played Flying V
– Autographed Flying V
– Acoustic Meet & Greet show guitar
All options include a personal meet-and-greet before the KISS show with Paul for you and one guest!
Your guitar will be autographed / personalized with the inscription of your choice.
For more information visit www.paulstanleyguitars.com .