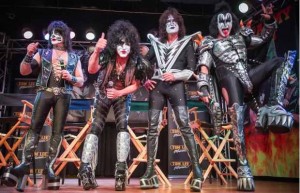 LIVE BID: Become a Member of the KISS Entourage on Their 40th Anniversary Tour on 2 Back to Back Shows
https://www.charitybuzz.com/catalog_items/437109
Proceeds Benefit: Boys and Girls Clubs of the Sioux Empire…
Please note: This lot will close at 12 noon EDT December 5 to be part of a live auction that evening. Please be sure to utilize the Max Bid feature so a Charitybuzz representative may continue to bid on your behalf at the live auction. Should no Max Bid be in place, we will bid your current bid at the live auction. Please contact info@charitybuzz.com or 212-243-3900 for more details or with any questions.
Any time in the next year, you and a guest can become members of the KISS Entourage on their 40th Anniversary Tour.
Includes:
– You and a guest will fly to meet up with KISS on tour anywhere in the US. (Valid for continental US flights only).
– You will see the KISS show as all access members of the group, stay in the same hotel as the band and fly from 2 back to back shows on the KISS jet with the band!
– Receive autographs and photos with the Band in Full Makeup during meet and greets
– Hang out at sound check and kick it with the crew– this is your pass to be "With the Band" for these 2 shows!!
– We will then fly you back to your origination spot after the second KISS show.
This package also includes 2 coveted seats to THE Fundraiser- an epic event being held on December 5, 2013 at The Orleans Hotel & Casino in Las Vegas. Those attending the event will meet all of the members of KISS backstage at the event and get a photo with the whole band without makeup on.
Donated By: KISS and McGhee Entertainment