Artikel från ultimateclassicrock.com om Peter Criss karriär: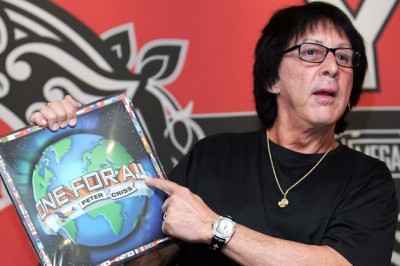 +
Leaving the safety of a hugely successful band is often a challenge for even the most accomplished artists. Few high-profile musicians can attest to this more than co-founding Kiss drummer Peter Criss, who spent fifteen hard, frustrating years on his own before temporarily re-joining his old band in the late '90s.
The history of Criss' post-Kiss solo career actually begins in 1979, while he was still in the group. As substance abuse threatened to consume him, Criss was replaced on most of the 'Dynasty' album by session drummer Anton Fig. Producer Vini Poncia felt that Criss' skills had simply deteriorated to the point that he was not fit to record. That decision was somewhat vindicated during the ensuing tour, which was marked by poor playing and, at some shows, blatant insubordination by Criss — including purposefully playing at slower tempos and fluffing his performance of 'Beth.' When the tour ended in December 1979, it was clear to all that his days in Kiss were numbered.
Although the official Kiss timeline lists May 1980 as the month Criss left the group to pursue his solo career, he had in fact begun it months earlier. While the rest of the band and Poncia were busy recording the album 'Unmasked' in the early months of the year, Criss was not even in the studio with them. Rather, he was elsewhere in New York working on his own album. His last official act as a member of Kiss was to show up for the filming of a promotional video for the 'Shandi' single.

With his tenure in Kiss officially at an end, Criss turned his attention to his own career. As it turned out, he was one of the few people paying any attention at all.
Released on Casablanca Records in September 1980, 'Out of Control' was met with indifference from record executives and music fans alike. The material, mostly co-written by Criss and longtime musical collaborator Stan Penridge, alternated between sentimental ballads in the vein of 'Beth' — still his most famous performance from his time in the group — and harder-rocking tracks that were decent but hardly earth-shattering. Two of the songs on the record, 'Out of Control' and 'There's Nothing Better,' were originally recorded as demos for 'Dynasty' but ultimately rejected.
To promote 'Out of Control,' Criss appeared on shows such as Tom Snyder's Tomorrow, making him the first member of Kiss to appear on TV without makeup. Strangely enough, however, Criss did not take advantage of this same marketing opportunity by appearing on his own album cover.
Läs mer!