Ace tycker till om sin inspelning av "The Joker" från kommande albumet "Space Invader":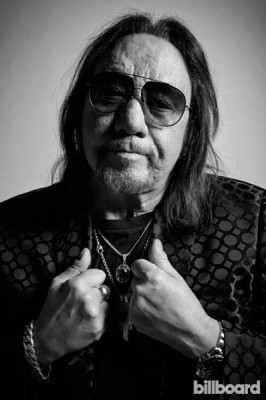 'It's got a nice, cool vibe': Ace Frehley on his unlikely new cover of Steve Miller's 'The Joker'
Ace Frehley says he wasn't all that excited about the prospect of taking on Steve Miller's classic-radio warhorse "The Joker" for his long-awaited upcoming solo album. Then, something happened: It started to work.
"I made it my own," Frehley tells Eddie Trunk. "It's got a nice, cool vibe. The rhythm part, it's got a Bo Diddley, 'New York Groove' feel at the end of the verse and into the chorus."
Space Invader due June 24, 2014 from eOne Music, is Frehley's first studio effort since a conflict-riddled induction into the Rock and Roll Hall of Fame with Kiss — and his initial offering since Anomaly in 2009, a No. 27 hit.
It's fitting, actually, that Frehley would mention "New York Groove," an anthem that's been closely associated with the former Kiss guitarist since its hit appearance on his 1978 solo debut — but one which was actually written by Russ Ballard and recorded first by Hello two years earlier.
"It was the record company's idea," he says of including "The Joker" on Space Invader. "When the idea was first brought up to me, I was kind of cool on it. But then I thought back to 1978, when [early Kiss producer] Eddie Kramer's assistant suggested I do 'New York Groove,' and I said: 'Nah. No way.' And then I ended up doing it anyway — because Eddie talked me into it. So, I figured: 'Hey, I don't know everything. And it actually turned out really great."