Postat av Niklas Olsson i
Nyheter
den 28 september 2016 |
ingen kommentar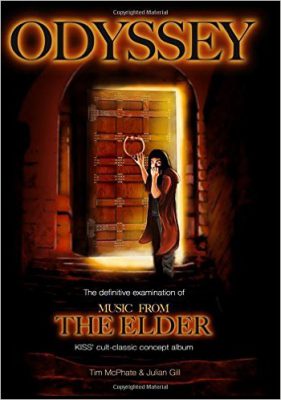 I nästa nummer av Destroyer kommer Ni kunna läsa en lång recension av boken Odyssey som Roney Lundell gjort, vi ger Er nu en liten och kortare version av den här:
ODYSSEY
The definitive examination of MUSIC FROM THE ELDER KISS' cult-classic concept album
Den i särklass mest mytiska av alla Kiss skivor måste ändå vara Music from the Elder. Frågorna som genom åren ställts rörande denna platta är många, men svaren är få och ofta vaga och motsägande. I en riktig tegelsten till bok klargör Julian Gill och Tim McPhate vad som hände under det dryga år som the Elder-projektet levde.
Precis som i boken om soloalbumen har Julian och Tim gjort ett gediget arbete. De har intervjuat över 30 personer som har bidragit mer eller mindre till Music from the Elders historia, bland andra Bob Ezrin, Christopher Lendt och Dennis Woloch, ljudteknikerna Freeman, Doyle och Stasiak, publicisten Langsam, scendesignern Ravitz och Brewer som äger det enda officiella Elder-filmmanuset som skrevs. Utöver intervjuerna presenteras en tidslinje över när och vad som skedde i Kiss-lägret under denna period, de olika utgåvorna och deras låtordningar diskuteras liksom planerna för en turné.
Ur ett objektivt perspektiv är detta ett galet bokprojekt. En koloss på över 500 sidor om den största floppen i ett rockbands historia. Det är inte en bok för vem som helst, men är du liksom jag ett fan av skivan och framför allt nyfiken på hur arbetet med the Elder gick till är det en oumbärlig bok. För även om många av de stora frågorna om skivans tillkomst inte får sina slutgiltiga svar är det mängder med ny fakta och tillräckligt med information för att var och en ska kunna bilda sig en uppfattning om vad som egentligen hände när den utlovade heavy metal-plattan blev the Elder.